Joe Brewer-Lennon
author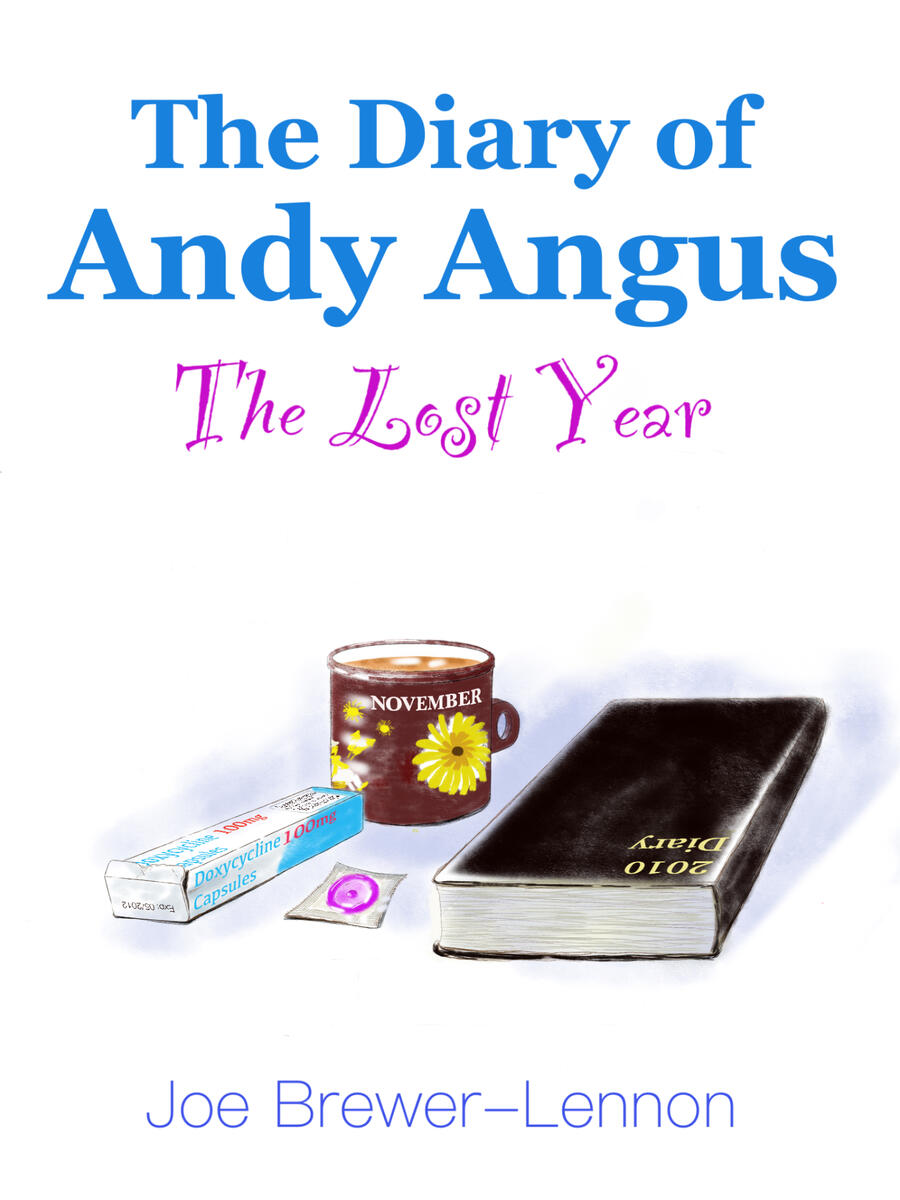 Andy Angus has been living a quiet life in the country as a Domestic God to his partner Thomas for the past decade. They're happy, settled, insular and pretty much friendless. 2010 is fast approaching, and Andy plans to propose to Thomas on their anniversary in front of his family. But his plans are scuppered when his aunt collapses and becomes seriously ill in the same week he discovers Thomas dogging.

With no real friend to turn to, Andy finds himself single, lost and half the man he once was. During an uncomfortable time back in his teenage bed, he receives an invite to a long-lost friend's wedding. Andy believes moving back to Edinburgh to be with his old pal (the groom-to-be) Ryan is the perfect reboot to erase the wasted years and start over. But life has changed since he left for love in the country: the age of consent for homosexual men has dropped, sex apps are free and easy, social media is on the rise, and Andy is now thirty-five years old, but no wiser. Even gentle Ryan has become acerbic and is marrying a man Andy detests.

Using his diary to document and reflect on his journey, Andy records a year of sexual experimentation and misadventure, unexpected friendships, loneliness and longing, and the depths he hits to have someone, nay anyone, to fill that void next to him in bed … even for just a few hours of the night.
---
The first installment of the Andy Angus series The Diary of Andy Angus: The Lost Year is available now at Amazon on Kindle for £2.99 and paperback for £11.00.
(Check your Amazon store for other local prices.)

Reviews
⭐️⭐️⭐️⭐️⭐️

If I could give this 10 stars I would.
So I've just finished the fabulous debut novel by Joe Brewer-Lennon. It had me laughing out loud, on the edge of my seat and ugly crying in equal measures. Such a captivating story, I couldn't put the book down.
If you love Armistead Maupin's blend of unique characters, compelling story telling and lashings of gay pride...with the comic observations of Victoria Wood then you are gonna love this.
⭐️⭐️⭐️⭐️⭐️

The novel is a great Scottish story of loss, love and coming of age, encompassing the tensions of friendship as well as the perils and joys of online dating, all played out between the Borders and Edinburgh. The writing reminded me strongly of Monica Ali's 'Brick Lane', and it got better as the story progressed. The author's experience as a GUM nurse provides some hilarious anecdotes throughout. Indeed, sexuality is frankly, honestly but always sympathetically treated. The story paints a colourful picture of hedonistic thirtysomething life in Edinburgh with a focus on the Fringe Festival and a big fat gay wedding towards the end. Having lived there some years ago, I was instantly brought back. It may seem unusual for someone to come of age at 35, but the novel brilliantly evokes this milestone in Andy Angus' life, truly a memorable and well-drawn character. This is a forthrightly honest gay bildungsroman. I am very much looking forward to reading the next instalment of Andy Angus' amazing journey. Highly recommended.
⭐️⭐️⭐️⭐️⭐️

Next year HAS to be better ...
I'd barely got started, when I came across the line 'Can you smell her Charley?' and I realised I'd hit comedy gold. There's a surprising amount of 'deep' stuff for a lighthearted comedy, sometimes it's easy to imagine this isn't merely fun fiction, but more of an autobiography. The end in particular made me slightly teary, a bit unexpected. What a year Andy has to survive. Brilliant story, well written, with believable dialogue, something a lot of authors don't quite get right.
⭐️⭐️⭐️⭐️⭐️

Clear your diary ...
Loved it. Delivered and read within a week!
The trails and tribulations will have you laughing out loud, biting your nails with anticipation, shedding a tear in disbelief and punching the air with joy!
A great read!
⭐️⭐️⭐️⭐️⭐️

Flipping Brilliant Book
Think Adrian Mole meets Joe Orton, throw in Hyacinth Bucket and a dollop of Victoria Wood and you have Andy Angus!
The highs and lows of a thirty-something gay man learning to live life all over again. You'll laugh out loud, you'll be shocked and surprised. You'll get annoyed, sad but also happy and hopeful. You will feel sympathy and joy.
For me I know a book is working when you can hear a character's voice - I heard all of these characters loud and clear, sometimes a whisper and sometimes a scream! By the end of this book not only did I know what everyone sounded like, I knew what they looked like too.
I do hope we get more from Andy soon as I really NEED to know what happens next ...
A word of warning though, be prepared to have that Sarah Brightman 70's sci-fi disco classic stuck in your head for days after.
A well written book that's easy to read - I really didn't want this story to end. This book will not disappoint, its bloody brilliant!
⭐️⭐️⭐️⭐️⭐️

Incredible book!!!
Oh my goodness, this is the best book I've read in such a long time. Genuinely excited to review this book. If I didn't have agoraphobia and fat legs, I would run out around the streets waving my arms around with a big placard advertising this brilliant diary. If Netflix don't get their hands on this and make a series, then they have seriously missed out on a golden opportunity, and in 40 years of reading, I have never said that about a book.
There was everything in this diary that should be right about society - acceptance of what people want to be. So if you are a ridiculous homophobe with a closed judgemental mind, then this book is far too intellectual for you.
Let's all cheer and support the long suffering LGBTQ community, I shall happily do so.
I hope the author has a sequel planned or I shall forever sulk until my dying day.
This is a modern day Adrian Mole and those books were absolutely amazing too.
To the author...Sue Townsend would have loved you I think.
This book was funny, exciting, heart warming, and intriguing. I feel fully invested with all the amazing characters. Even Nick!!!!
Bravo Joe, a real page turner. A triumph indeed.
⭐️⭐️⭐️⭐️⭐️

Brilliant
Brilliantly written book. So funny, so heartfelt. I think the book is so relatable to many lives, makes you really connect with the story and the book. Very open and honest. It deffo made me crack up so many times. I would recommend it to every single person to read. I expected it to be good, but not this good!
⭐️⭐️⭐️⭐️⭐️

Fantastic debut guaranteed to make you laugh.
This book is a breath of fresh air - truly funny, moving and addictive reading.
You fall in love with the characters, especially Andy and his fabulous sidekick Sally.
I found it incredibly hard to put down when reading as I couldn't wait to see what was about to happen to Andy next in his topsy-turvy, turbulent life in Edinburgh.
The only problem with it is I kept bursting out laughing while reading in bed and waking up my other half!
Would highly recommend this book and hope we see more of Andy and his gang in the future.
⭐️⭐️⭐️⭐️⭐️

What an opening number ... Wow!
A tale like no other, yet in an oddly intimate way! Andy's adventures, moments of selfdoubt and insecurities, but also the ones of pure bliss are something all of us can relate to. From losing it all to winning even more; learning the true meaning of finding one's Logical Family (I know, yet another Armistead Mopin reference as already commented).
This book is written in such a loving, witty and heart-warming way that I could hardly put it down. Had many moments of giggles and loud-out laughs (apparently not much appreciated on public transport...) and many moments that were truly moving (why can't a grown fella shed a silent tear on said public transport??!!??) I look forward to the next chapter of Andy's life... Because too much of a good thing can be wonderful (Armistead Mopin).
⭐️⭐️⭐️⭐️⭐️

Brilliant read
A fantastic mix of funny, serious, lighthearted, emotional and warm. Well worth a read.
⭐️⭐️⭐️⭐️⭐️

Laugh-out-loud hilarious while touchingly thought-provoking.
A slow start that turned into a laugh-out-loud, hilariously enjoyable romp with an amazing ending that ties everything together in ways I couldn't have anticipated. On reflection it reminds me of the best parts of Tales of the City (only watched on Netflix, not read the books, sorry!), guilty pleasure soaps like Hollyoaks, an adult Adrian Mole (the diary format in particular) but far richer and deeper. It has genuinely changed the way I think about certain topics. Hard to say more without spoiling it but: read this book!
⭐️⭐️⭐️⭐️⭐️

Loved it can't wait for the next one.
It was a great read and kept me hooked. Full of unseen twists and giggles but everything comes together right at the end. Looking forward to Andy's next adventures.
⭐️⭐️⭐️⭐️⭐️

You'll belly laugh and break your heart.
Must-read for all romantics whether you're gay, straight, old or younger trying to find the one.
⭐️⭐️⭐️⭐️⭐️

Humorous and touching.
A thoroughly enjoyable read. I couldn't put it down. I felt a whole spectrum of emotions whilst reading it. As someone who grew up in Petersburn, it was strange to read about my childhood haunts- the glen, our concrete playgrounds and the flat roofed, Beruit style houses. I didn't want it to end but the ending was perfect. I hope to read more adventures of Andy Angus from the intervening years.
⭐️⭐️⭐️⭐️⭐️

An absolute must-read!
From the moment I started reading the Diary of Andy Angus I was hooked and I just could not put the book down, which is unheard of for me! Andy Angus' life resonated with me so much, as did many of the characters and events that he went through over the year. The way Joe describes the places and people is amazing and conjures up vivid images and memories of people on 'the scene' in any town or city up and down the country. I highly recommend this book for all members of the LGBTQ+ community and their allies. It is an absolute must!
⭐️⭐️⭐️⭐️⭐️

Just brilliant.
The Diary of Andy Angus is a must read. It is highly entertaining with believable characters who you can relate to. Andy himself is just as flawed as we all are, but very likeable, I could relate to him and his ups and downs of life. The story keeps you gripped and wanting to know what will happen next to Andy. This is a well written book that I highly recommend and I look forward to Andy's further adventures.
⭐️⭐️⭐️⭐️⭐️

Spectacular Debut!
Just finished reading The Diary of Andy Angus by Joe Brewer-Lennon. Hilarious! Heartbreaking! Devastatingly heart-wrenching at times. Laugh-out-loud funny at times. Exquisitely developed characters. Well worth the read. Highly recommend.
⭐️⭐️⭐️⭐️⭐️

Written with a sardonic humour that will make you laugh out loud.
It is a book about people trying to be good. They do not always succeed because they are human, and this is a very human story. People fail, they face difficulties and disasters, but they pick themselves up and carry on. They are preparing themselves to fail better at the next attempt. It is a story about hope and survival and quiet determination, told with a certain sympathetic humour. I think you will recognise the deep humanity that is the basis of this story. I think you will like this book.
⭐️⭐️⭐️⭐️⭐️

A Truly Unputdownable Read!
This was a fantastic read from start to finish. The characters are so believable you almost feel you know them. So many ups and downs for Andy with lessons for us all thrown in. Plenty of laughs too. I can't recommend this book highly enough - just hoping there will be more to come.
⭐️⭐️⭐️⭐️⭐️

I thoroughly enjoyed this book.
It was strangely reminiscent of my past life albeit with more twists to the story. I found it well written and comical in parts whilst in others, you really do feel for Andy and the issues faced. I would rather like to think the story could continue on in other books, I would certainly buy them.
⭐️⭐️⭐️⭐️⭐️

Wonderful.
This book has everything, you will be laughing out loud one minute and in tears the next. I couldn't put it down. Clever, witty and you feel everything that Andy goes through. I can't wait for the next book and urge everyone to buy this, it's wonderful.
⭐️⭐️⭐️⭐️⭐️

Great read.
A great read from start to finish. The characters, the story, the twists and turns are all unexpected! Thoroughly enjoyed it. I'm so looking forward to next instalment!
⭐️⭐️⭐️⭐️⭐️

An amazing read.
I bought this book by chance, and thank goodness I found this read. It is a very easy and well written read that I didnt want to put it down. I have to say there have been tears of sadness and joy ... and lots of laughs all the way to the final page. I'm hoping that another book will follow.
⭐️⭐️⭐️⭐️⭐️

Absolutely fantastic!
So, here's the thing. I'm not really a fan of reading books, I'd rather listen to an audio book, and there's not many book I've read recently, but honestly, this is one heck of an amazing book. Can't really remember how I came across it, but soooo glad I did. It's got all the emotions you need for a good book. As a gay guy myself, I can totally relate to Andy and I can feel the same emotions as he does. I just loved it. Only issue is I read it too quickly. I know, I amaze myself too. So... perhaps a sequel?
About the Author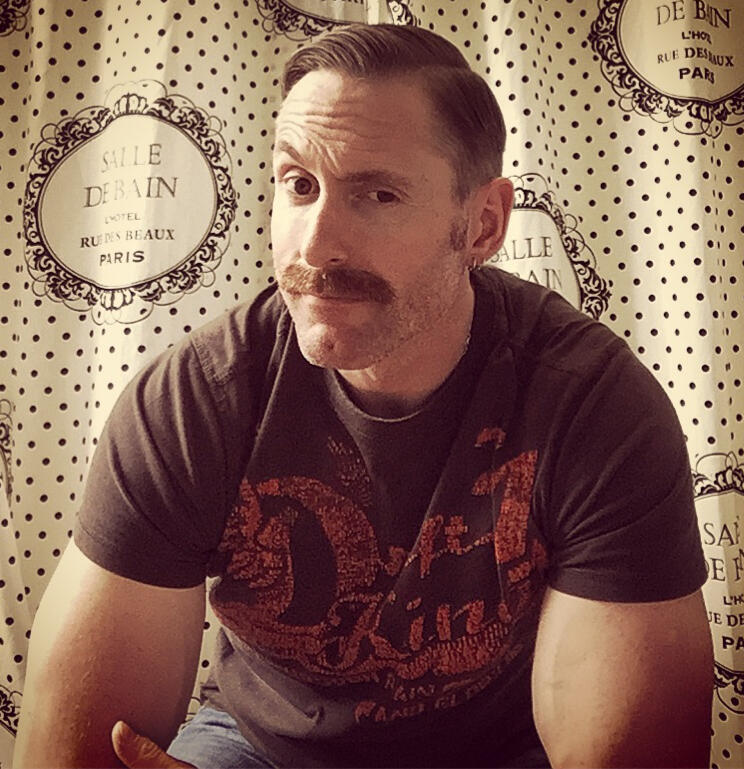 Joe Brewer-Lennon grew up on a Scottish council scheme that no longer exists. When he wasn't playing Kick the Can with friends, he would spend rainy days creating adventures with his limited supply of Doctor Who figures and his sister's Sindy dolls; the humble beginnings of his fictional creativity. In the mid-nineties, he somehow qualified as a nurse and has spent most of his adult life under a tedious mountain of paperwork convincing people to have unpleasant things done to them for their own good. After studying Sexual Health at Stirling University, he decided to turn some of this insight into the work of fiction above. He currently lives in Glasgow with his husband and two cats: two of which have no choice but to dress in black and white; one of which is smugly tortoiseshell.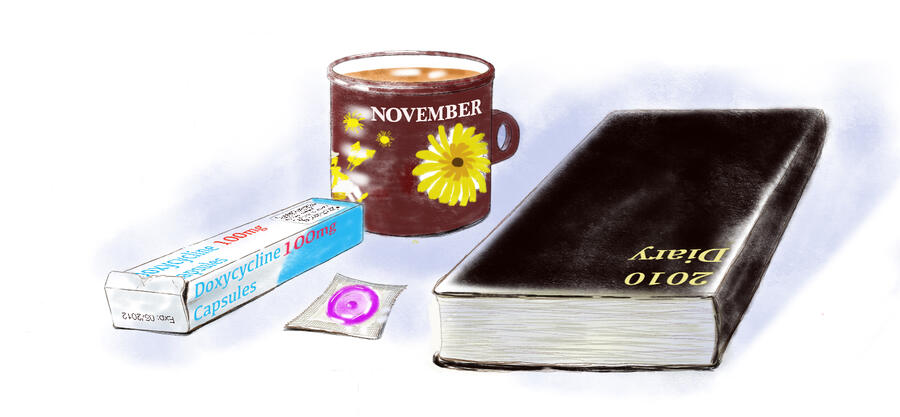 Work in Progress
Joe is currently piecing together the second book of the Andy Angus series. Watch him scratch his head on social media whilst drinking tea and consuming a lot of cake, if that floats your boat.